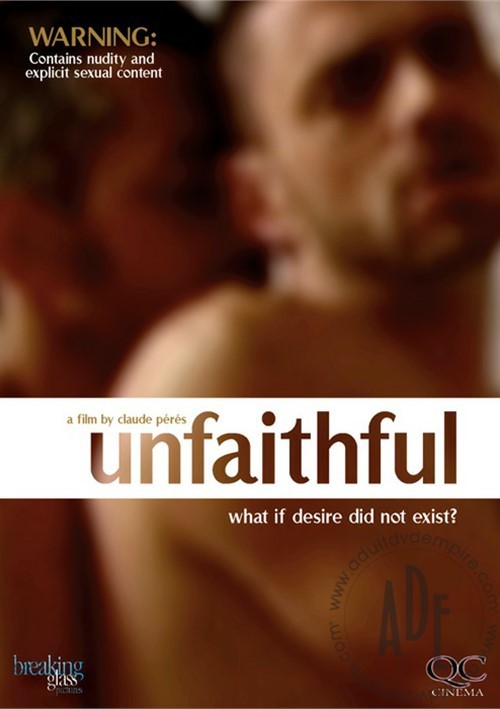 ---
---
Claude Peres takes viewers on a haunting and intimate journey with this groundbreaking erotic drama. The premise is simple: Peres and a man he's never met will together while the cameras roll. No contract, no film crew, no boundaries. The end result is a film that challenges viewers to look into the heart of human desire. There's palpable tension as the director and "the actor" engage in conversation and gradually give in to the film's
unusual and unpredictable scenario. Peres loosely structures the encounter as an interview in which he poses piercing questions to his onscreen lover, himself, and the audience. It's is the kind of film that seeps into the viewers' subconscious and rattles their comfort levels. After watching Unfaithful, audiences will never look at cinema the same way again.
---
Guaranteed to ship the next TLAgay Business Day.
*Restrictions Apply
Same Day Shipping
Place an online Credit Card Order for In Stock products before 3pm ET during normal business hours your Order will ship that day.
Learn more >
Information
Director: Claude Peres
Writer: Claude Peres
Rating: XXX
Released: Oct 26 2010
Added: Jan 04 2017
Production Year: 2010
TLA SKU: 1875636
Custodian of Records:
Breaking Glass - Adult
R. Wolff 133 North 4th Street Philadelphia, PA 19106
Reviews
Review by BiBoyLV
By: BiBoyLV

Thank God I only rented it. And thank God for fast forward. Most of the film was complete darkness. And nothing is more boring than to overanalyze every moment of sex. In the entire film there was maybe 5 minutes of somewhat interesting sex that was ...
Read More
Review by Movie Lover
By: Movie Lover

Thank God for fast forward!!! I can't believe the director would have such long moments of darkness in a film. Who wants to watch a black screen and listen to people talk?
Maybe he considers it Art? But I would have been happier listening ...
Read More
Review by watcher
By: watcher

One review was right in saying that this is unlike any movie you've ever seen before, because you literally CAN'T SEE ANYTHING. In retrospect, I'm not 100% sure the director wanted the content of his intimate moments seen by the public, which begs t...
Read More
Review by Les
By: Les

I want my 3.99 and 90 minutes of my life back. What's the good of filming a movie if you can't see anything? There are long periods where the screen is black, and then there are moments when the view of the actors is completely obstructed. There's n...
Read More
Review by Friday
By: Friday

What little of the film that is not in blackout is mostly Peres talking and self-absorbed. Schlutt gives his all but against the bombast of Peres, it is lost. Save your money. Mary Poppins is sexier>
Review by Buck
By: Buck

This film can only be described as "avant garde" or off-beat. There are periods of blackness on the screen where the actor and the director, who co-stars, cannot be seen. There really is no script and after a fashion it simply gets tiresome. My motto...
Read More
Review by Amos Lassen
By: Amos Lassen

"Unfaithful"
Shared Intimacy
Amos Lassen
"Unfaithful" is like no movie you have ever seen before. It is loaded with intimacy. The director gives us a gem of a movie and I am not sure we know what to do with it. The pl...
Read More