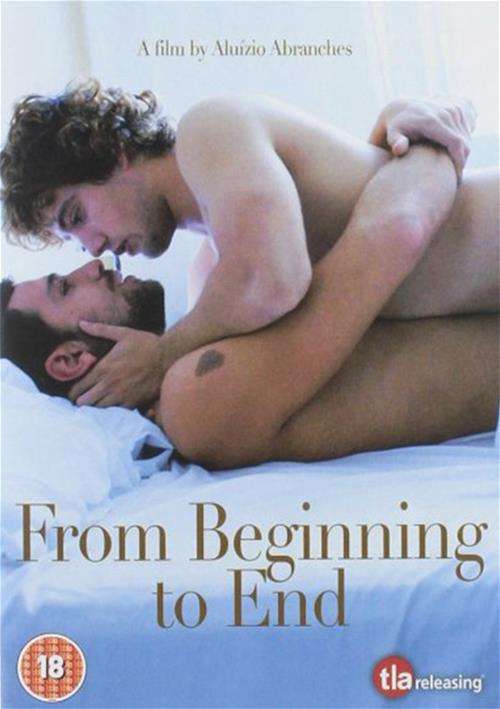 ---
---
This controversial Brazilian drama, From Beginning to End, from director Aluisio Abranches, follows the love and sexual intimacy between two men...who are half-brothers.
Guaranteed to ship today if ordered within the next 27 minutes.
*Restrictions Apply
Same Day Shipping
Place an online Credit Card Order for In Stock products before 3pm ET during normal business hours your Order will ship that day.
Learn more >
Reasons to Buy
This film has caused quite a stir at film festivals around the globe for its sympathetic portrayal of two brothers in love and lust with one another.
This small Brazilian film attracted more than ten thousand audience members during its weekend debut, while playing in only nine theaters.
Regardless of how you feel about the subject matter, stars João Gabriel Vasconcellos and Rafael Cardoso are scorching hot and fun to watch together on screen!
Information
Director: Aluizio Abranches
Writer: Aluizio Abranches
Length: 1 hrs. 36 mins.
Rating: NR
Released: Jun 07 2011
Added: Mar 09 2011
Production Year: 2009
TLA SKU: 1569032
UPC Code: 807839005028
Catalog #: DV3102722
Custodian of Records:
TLA Releasing
35 Rumson Road Rumson, NJ 07760
Reviews
Review by Raymond Murray
By: Raymond Murray
In-House Review - Jul 27 2010
There are not a lot of topics involving consenting adults that can really shock these days but this searing romantic drama about two brothers who love- incestuously ? may well be one of them! Set in a sun-burnished Brazil, two boys, Francisco and his...
Read More
Review by Luv0iz0Luv
By: Luv0iz0Luv

From Beginning to End is one of the warmest, most poignantly beautiful movies I have ever seen. I positively adore it. The chemistry the leads have together makes it fully believable that these two men couldn't not be helplessly, devotedly, in love...
Read More
Review by Bevo
By: Bevo

One of the best movies...gay or not...made. If only US gay movies could be as good.
Review by Skiri
By: Skiri

This movie is one of three that are the most outstanding gay films during the past year. The other two are Plan B and Undertow. From Beginning to End and Plan B are Brazilian productions, Undertow is Peruvian. That's interesting: my three favorit...
Read More
Review by Chris
By: Chris

a touching and moving love story with the deepest of bonds. while the subject matter may push limits for those with braces on their brains, this movie is a must see. one of the best gay themed movies i've seen in several years.
Review by M
By: M

I think the movie is one of the best i have seen in years. The beauty they have when they touch each other as grown ups is breath taking. they are obviously beautiful men, and two brothers touching each other would make people think of porn.
Bu...
Read More
Review by Green Giant
By: Green Giant

This film, while on a touchy subject, is one of
the most gorgeously filmed and scored gay
love stories EVER. granted you have to take
Any lush romantic film with a grain salt and
this one is no different.
The direc...
Read More
Review by JOD
By: JOD

Well acted! Sexy without being raunchy!
Review by RFH
By: RFH

A beautiful film. A love story not just between the brothers but also between the mother and the boys' fathers. Everyone, the swim coach, parents & relatives all accept the situation. A perfect movie with a happy ending.
Review by Ron in Maine
By: Ron in Maine

From what I heard, this film opened to huge audiences. I don't have any information on whether or not those audiences were predominantly gay or not. While I don't think you have to be gay to enjoy this film, I believe you would have to be quite ope...
Read More
Review by just a reviewer
By: just a reviewer

.....The Heart Loves Who the Heart MUST Love!
(( A BEAUTIFUL LOVE STORY INVOLVING HALF-BROTHERS ))
- AN EXPLANATION ABOUT THIS FILM'S BEGINNING: Concerning The "Eyes Thing," there is a reason for the opening Black+White scen...
Read More
Review by oilgun
By: oilgun

-This review contains spoilers-
From Beginning to End, the famed 'incest' love story from Brazil (and Argentina) was just painful to watch, and my expectations were pretty low because of the trailer and stuff I had read about it that kind ...
Read More
Review by Amos Lassen
By: Amos Lassen

"From Beginning to End" ("Do Comeco ao Fin")
Two Brothers in Love
Amos Lassen
The Brazilian film "From Beginning to End" is the story of two brothers ...
Read More