After long, back-breaking hours of tabulating your votes, the results are in for the 2014 TLA Gaybie Awards! Thanks to everyone for voted for helping to make the fifth annual Gaybies another massive hit! The nominees below have all made contributions to the world of gay-themed entertainment and we are happy to have been able to include them in our annual survey. Scroll down to take a look at the winners in each category and don't forget to support them by buying their DVDs! Check back with us again in 2015 for a whole new set of nominees!
BEST GAY DRAMA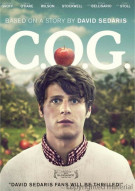 Feature-length adaptations of David Sedaris stories are off to a good start! Based on an essay from his 1997 compilation "Naked," C.O.G. ("Child of God") starts Jonathan Groff (HBO's "Looking") as David (the author's surrogate), an arrogant, though not wholly unlikable, college student who takes a job at an Oregon apple farm to see how less-privileged folks earn a living. There, he forms troubled relationships with two different older men (Corey Stoll and Denis O'Hare) who shape his worldview in unexpected ways. Beautifully shot by cinematographer Jan Shelton and director Kyle Patrick Alvarez (who previously helmed the award-winning indie Easier with Practice), this intelligent and affecting dramedy perfectly captures the feelings of a young man looking for his place in the world and discovering his identity. He doesn't necessarily get there by the end of the movie, but it is the confused, uneasy journey that is of most interest to the filmmakers.
BEST GAY ROMANCE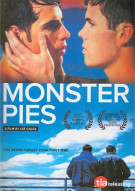 Two high school outsiders - Geeky, alienated Mike and Nick, the handsome new kid in school - meet and fall for one another, but soon face the scrutiny of their conforming classmates and unsupportive families in this sweetly innocent, heartfelt and ultimately shocking melodrama from Down Under. I have to admit that we were surprised that Monster Pies took this award. Audiences seem largely divided over the film's tragic aspects. However you feel, though, it is hard to ignore that the romantic scenes work. Aussie newcomers Tristan Barr and Lucas Linehan are deeply committed performers with great chemistry. They bring an emotional intensity rarely found in gay films (but befitting the hormone-crazy world of teen boys). Monster Pies will tug at your emotions and might even bring back memories of your own exciting, but agonizing first love.
BEST GAY COMMEDY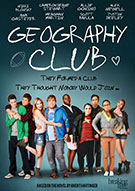 Geography Club
16-year old Russell is going on dates with girls while nurturing a secret relationship with star quarterback Kevin - who will do anything to prevent his teammates from finding out. Meanwhile, Min and Terese tell everyone that they're just best friends, though their connection is much deeper. And then there's Ike, who can't figure out who he is or who he wants to be. Finding the truth too hard to hide, they decide to form a club where they can all come together and be themselves. In a gay cinema landscape with low budget indie American films, issue-driven documentaries and international dramas, Geography Club stands out. For this slickly made romantic pop dramedy sports a Hollywood sheen (think of it as a queer The Breakfast Club), a teenage mall-ready appeal (but don't let that stop you older folks from enjoying!) and a modern message that makes it required viewing for all young people.
BEST GAY DOCUMENTARY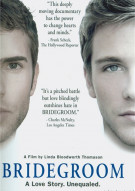 On May 7th, 2011 Shane Bitney Crone tragically lost the love of his life, Tom Bridegroom, to an accident. Tom's family banned Shane from the funeral and he was unable to say goodbye. One year later, Shane posted a video on YouTube, entitled "It Could Happen to You." He created it to honor his partner and show the world what can happen when two people are barred from having equal rights. The video went viral, passing two million views within seven days. Profound, emotionally powerful and incredibly important, Bridegroom tells of Shane's emotional journey, original film and the raw nerve it touched. The film continued to spread Shane's story - even before it was made. Bridegroom was funded by over 6,500 supporters on Kickstarter - along with the help of influential people like George Takei and Neil Patrick Harris. Bill Clinton even introduced the film when it premiered at the Tribecca Film Festival.
BEST GAY THRILLER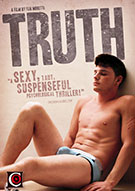 Sean Paul Lockhart and writer-director Rob Moretti star in this deliciously disturbing thriller about a seemingly innocent love affair that goes terribly wrong. Truth opens with an imprisoned man - befuddled, but claiming innocence - who is being interviewed by a therapist. Soon, the story of how he got there unfolds. A chance internet encounter brings the cute, affable Caleb (Lockhart) and the hunky, older Jeremy (Moretti) together. Jeremy seduces the vulnerable young man with compliments, attention and above all, the promise of a secure love. Caleb, mentally abused as a child by his emotionally erratic mother and now wary of relationships, succumbs to Jeremy's advances and a sensual affair begins. But beneath Caleb's shy smile and innocent eyes lies a troubled young man, and Jeremy harbors his own dark secrets and lies which, together, threaten the relationship. This budding romance soon triggers an unexpected chain of events as trust is violated, tempers unleashed and the destructive side of love takes over. Truth is an edge-of-your-seat, often disturbing psychological thriller that manages to be just as sexy as it is scary.
SEXIEST GAY MOVIE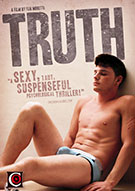 When we called Truth "sexy" on Twitter, Sean Paul Lockhart busted our balls a little, saying "Yeah but to @TLAgaymovies everything is sexy. Everything is "a sexy thriller" or "a sexy comedy", etc. sexy, sexy, sexy. Or it didn't happen." He's right, that's true, we're completely guilty. STILL, we're so happy to see that our customers agree with us anyway!!! Moretti and Lockhart be SIZZLIN' in this movie. They have that hot big bro/little bro dynamic that so many of our customers crave and they're not afraid to show off their smokin' bods on screen for the sake of a good story. I got to see the film twice when it screened at Philadelphia QFest last year and you could almost feel the audience break a collective sweat during some of their early scenes. The intimacy that they create in the early-going also comes in handy during the film's second half when Caleb's crazy side comes out to play - it's even more jarring. Watch the film a second time and you'll wish that you could re-route the dangerous direction that it's going in - just because these two look so good together.
BEST LEAD ACTOR IN A GAY MOVIE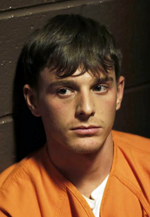 Sean Paul in Truth
There are many adult film actors who long to break into mainstream film. Sean Paul Lockhart (formerly known to gay porn aficionados as Brent Corrigan) has proven that he has the talent and charisma to pull it off! Since his mainstream debut in Judas Kiss, Sean has been featured in many gay flicks (his segment "I Was a Teenage Werebear," a musical-comedy-horror spoof of 1960s "teen rebel" movies, in Chillerama is a particularly hilarious highlight) and he also made his directorial debut this year with the gritty and seductive drama Triple Crossed. His performance in Truth is his best showcase yet. He imbues Caleb with such vulnerability that it's hard not to fall in love with him - and continue to care about him even after his emotional instability takes center stage. Lockhart has such a strong fan-base that he could probably star in EVERY romantic comedy on the gay niche market, but he keeps choosing darker, more challenging roles that strengthen his abilities as an actor. Speaking of which, IMDB lists his next two films as Kissing Darkness and The Dark Place. We'll be more than happy to follow him to whatever dark places he wants to take us.
BEST SUPPORTING ACTOR IN A GAY ROLE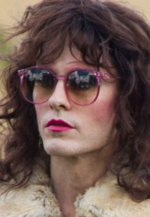 Duh. Honestly, we're a little disappointed with this outcome - only because Jared Leto really doesn't need a "TLA Gayby Award." He's already got trophies from the Academy Awards, the Golden Globes, the Independent Spirit Awards, the Screen Actors Guild and tons of film festivals and critics organizations for his stunning performance in Dallas Buyers Club. Obviously, though, there is a reason for that. Watch the film and boggle your mind trying to remember that Rayon, the street-wise, Marc Bolin-obsessed trans activist/crusader with a heart of gold, was once MTV heartthrob Jordan Catalano. Leto underwent such a transformation - getting in touch with his feminine side, shedding 40 lbs, staying in character for the entire film shoot - that it's hard to believe. Though his casting and some of his award-season comments sparked controversy, we're confident that this is a performance that will stand the test of time.
BEST DIRECTOR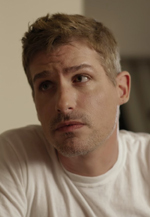 Hot damn! Truth SWEPT the Gaybies this year! So who better to take the Best Director honor than writer-director-producer-star Rob Moretti? Not only did he direct a solid gay thriller, but he did it while co-staring - romancing Sean Paul Lockhart and putting his character into some very compromising positions (we won't get into any specifics so that we can avoid spoilers). For Moretti, though, acting should come easy. He's been doing it since he was 14 years old. He created his own production company back in 1994 and produced a number of short films. He made his directorial debut with Crutch in 2004 - which landed in the Top 50 DVD Rentals in the US for three consecutive weeks in January 2005. Truth is his second feature and hopefully far from his last.
---
Details of the TLA Gaybies
Nominees were selected by our staff of semi well-educated, but very pop-culture-attuned staff.
All nominees will be notified via email.
Award winners will be announced April 15th.
Voting is open to everyone. There is no limit on the number of votes you may cast. In other words, to quote Huey Long, "Vote early and often."
Losers can petition for a recount by contacting TLAgay.com via any communication method they choose. Results may vary depending on a variety of stimuli presented forthwith.
Categories are subject to change based on no pre-defined set of criteria or rationale that will make sense to anyone other than us.