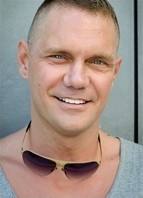 birthplace: Barcelona, Spain
born: December 30 (Capricorn)
Nacho Vidal started working in the sex industry when he was 21. Nacho worked at a sex club where he would perform live sex acts with his, then girlfriend. From there, Nacho Vidal was quickly introduced to the larger porn world when he was discovered by Rocco Siffredi. Siffredi brough Nacho to Hollwood in 1998 to begin starring in American porn and since then, Nacho Vidal has starred in well over 1500 movies.Like Rocco Siffredi, Nacho Vidal is known for his extreme nature in front of the camera. His films feature some of the roughest sex scenes available and Nacho is constantly pushing the barrier of sexual taboos working with transsexual performers and producing gay adult content.Nacho was involved for a while with superstar Belladonna in a romatic relationship, altho the relationship has since ended.
---
run time 240 mins.

released 02/07/2005

free shipping Eligible