---
---
Shadowlands is an anthology style series that explores love in three separate stories - a couple renegotiating a relationship, a narcissist grasping to comprehend it, and star-crossed lovers mourning its loss. The series begins in 1928 with Alex, a plastic surgeon hell-bent on perfection, hosting a house party with an assortment of colorful guests. Amid romantic misfires it becomes apparent that the only person Alex is interested in is himself. Fast forward to 1951 and a gay military couple exploring the idea of opening their relationship while on a remote camping trip when they encounter a mysterious stranger.
The stories conclude in 2018 when a painter, mourning the loss of his lover, becomes obsessed with creating a realistic painting of him. The resulting piece is so beautiful and life-like that he is drawn under its spell.
---
Additional Versions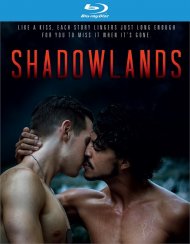 Reviews
Review by Amos Lassen
By: Amos Lassen

"Shadowlands"
Exploring Love
Amos Lassen
"Shadowlands" is a "world much like our own but with paranormal occurrences". It is an anthology of three separate stories that explores the meaning of love. These include a couple renegotiating...
Read More