---
---
After a summer away at camp, Phil returns home to find that his mother and twin sister aren't speaking to one another. Not willing to confront his family during the last days of the summer holidays, Phil escapes to hang out with his best friend, Kat, eating ice cream and playing dress-up. As the school year begins, a new student arrives - the handsome and mysterious Nicholas. Smitten, Phil watches his crush as he runs around the track after school, and is thrilled when Nicholas returns his feelings. However, when first love's volatility comes to light, Phil realizes he must deal with the problems of his past in order to deal with the issues of his present.
---
Additional Versions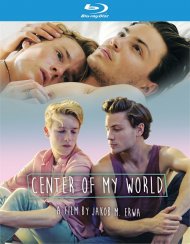 Information
Director: Jakob M. Erwa
Length: 1 hrs. 55 mins.
Rating: NR
Released: Dec 23 2019
Production Year: 2017
TLA SKU: 1949077
Reviews
Review by Amos Lassen
By: Amos Lassen

"The Center of My World" ("Die Mitte der Welt")
An Unconventional Childhood
Amos Lassen
After a summer spent with his best friend Kat (Svenja Jung) to escape his family, Phil (Louis Hoffman) goes back to school and st...
Read More
Review by colorfulkent
By: colorfulkent

Sexy full frontal nudity (more than once) and hot love scenes with a good story. You won't be disappointed with the sex.