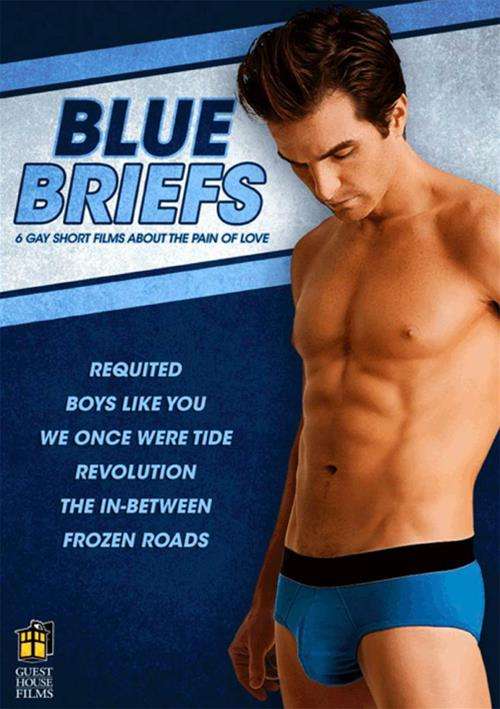 ---
---
Following on the heels of Black Briefs, their first successful short film compilation, Guest House Films (the production company and distribution house from TLA favorite Rob Williams - Role/Play, 3-Day Weekend, Long-Term Relationship, Back Soon, and Make the Yuletide Gay) continues their new series with Blue Briefs. This brilliant, engrossing and emotional new collection features stellar gay shorts that focus on relationships and the unfortunate pain that often accompanies true love (something that gay men know all too well).
Requited ? Directed by Sal Bardo (20 minutes)
"How do you get over something you never had?" That's the question facing Nicolas (newcomer Christopher Schram) as he tries to decide if he should go to the wedding of his best friend from high school - with whom he's always been quietly in love.
Winner ? Best First Time Filmmaker, Reel Affirmations: Washington DC's International LGBT Film Festival; Official Selection ? NewFest, Seattle International Film Festival
Boys Like You ? Directed by Daniel Armando (12 minutes)
A young man struggles with the boundaries of friendship when he finds himself in an intimate situation with his roommate.
Winner ? Best Male Short, North Carolina Gay and Lesbian Film Festival; Official Selection ? Spokane Gay and Lesbian Film Festival
We Once Were Tide ? Directed by Jason Bradbury (18 minutes)
On an island off the South Coast of England, Anthony (Alexander Scott) and Kyle (Tristan Bernays) spend their last night together before Kyle moves away - leaving Anthony to look after his terminally ill mother.
Winner ? Best Screenplay, MiMi LGBT Film Festival, Barcelona; Official Selection ? NewFest, BFI London Lesbian and Gay Film Festival, Torino Film Festival
Revolution ? Directed by Abdi Nazemian (16 minutes)
Jack (Logan Aria), a 16-year-old Iranian boy growing up in 1989 Los Angeles, learns how to stage his own revolution within the confines of his traditional family.
Official Selection ? Outfest, ImageOut: Rochester LGBT Film and Video Festival, Frameline
The In-Between ? Directed by Alain Hain (10 minutes)
Jared (Danny Bernardy) has found his first live-in boyfriend, but begins to suspect that the man he is in love with isn't as faithful as he would hope. Has his paranoia got the better of him, or are his instincts dead on? From the director of the award-winning Curious Thing.
Official Selection ? Frameline, Outfest, NewFest
Frozen Roads ? Directed by Mark Pariselli (17 minutes)
As a trio of friends comes of age in a rural, conservative Canadian town, they must confront escalating desires for one another that threaten to destroy their delicate bond.
Official Selection ? NewFest, Inside Out Toronto LGBT Film and Video Festival, BFI London Lesbian and Gay Film Festival
---
Guaranteed to ship today if ordered within the next 54 minutes.
*Restrictions Apply
Same Day Shipping
Place an online Credit Card Order for In Stock products before 3pm ET during normal business hours your Order will ship that day.
Learn more >
Reasons to Buy
Get six acclaimed, heartwrenching short films for one low price!
This collection was currated by Rob Williams , the prolific gay movie director behind 3-Day Weekend , Role/Play and Make the Yuletide Gay .
These hard-to-see films were all hits at film festivals around the globe. Now they're all available in your living room!
Reviews
Review by Amos Lassen
By: Amos Lassen

I must start this review with a few words about the guy responsible for it. Rob Williams has come a very long way since I first reviewed him some five plus years ago when he released "Long-Term Relationship". I remember thinking that this guy is goin...
Read More