---
---
Bouncing around from genre to genre, this stellar collection of short films from Mattioli Productions showcases some of the most cutting edge recent gay cinema from the United States and Australia. Sit back, relax and get ready to make it a BOYS NIGHT.
Hopelessly (USA, 2018, 5 mins) / Directed by Tony Clemente Jr.
All Darren wants is a connection. When his girlfriend and his boyfriend don't have time for him, Darren goes on an adventure to find love again... and again... and again. Welcome to polyamory!
Mass (USA, 2020, 12 mins) / Directed by Linus Ignatius
Gay, HIV-positive and lonely in NYC Trey find himself surrounded by hulking, powerful men. Throughout his day, he obsesses over how to get BIG - and his insecurities keep him trapped in a cycle of trauma and abuse.
Innocent Boy (USA, 2020, 14 mins) / Directed by Brock Cravy
Off a lonely Texas highway, a group of hustlers prey on the desperados who have come for sex, and Mommas special milk. Don't miss this wildly provocative short horror flick from director Brock Cravy.
Miles (Australia, 2017, 15 mins) / Directed by Christopher Sampson
In this Australian coming-of-age drama, three lifelong friends involved navigate their way through an unusual love triangle while embarking on a road trip that will change their lives forever.
Sacrifice (Australia, 2018, 17 mins) / Directed by Anna Maguire
James, a humanitarian rights lawyer, and Blake, a military officer, just want to live a normal and quiet life together. They find, however, that their sense of professional duty continually tears them apart.
Tooth 4 Tooth (Australia, 2020, 13 mins) / Directed by Alice Maio Mackay
While investigating the murder of a friend, a drag artist and an activist find themselves caught in an old war between those who feed on the of the fearful and those who feed on the of the hateful.
---
Additional Versions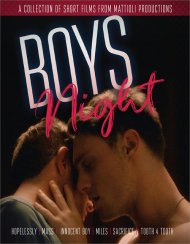 Reviews