---
---
South Africa, Free State region, isolated stronghold to the Afrikaans white ethnic minority culture. In this conservative farming territory obsessed with strength and masculinity, Janno (Brent Vermeulen) is different, secretive, emotionally frail. One day his mother, fiercely religious, brings home Pieter (Alex van Dyk), a hardened street orphan she wants to save, and asks Janno to makes this stranger into his brother. The two boys start a fight for power, heritage and parental love. An official selection of Cannes Un Certain Regard, Etienne Kallos' debut feature film explores teenage angst, sexual awakening and family dynamics set against a harsh yet stunning South African backdrop.
---
Additional Versions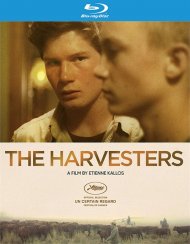 Information
Director: Etienne Kallos
Length: 1 hrs. 46 mins.
Rating: NR
Released: Jan 02 2020
Production Year: 2018
TLA SKU: 2766620
Reviews
Review by Where's the end
By: Where's the end

So.... I can't say this was a bad movie... I can however, say that based on the given description, this movie was extremely confusing. The description led me to believe this would be some form of coming of age, finding a deeper meaning of love betwee...
Read More
Review by Amos Lassen
By: Amos Lassen

"THE HARVESTERS"
Identity and Sexuality in Afrikaans Culture
"The Harvesters" ("Die Stropers") Identity and Sexuality in Afrikaans Culture Amos Lassen With his feature writing-directing debut, Greek-South African filmmaker Etienne Ka...
Read More