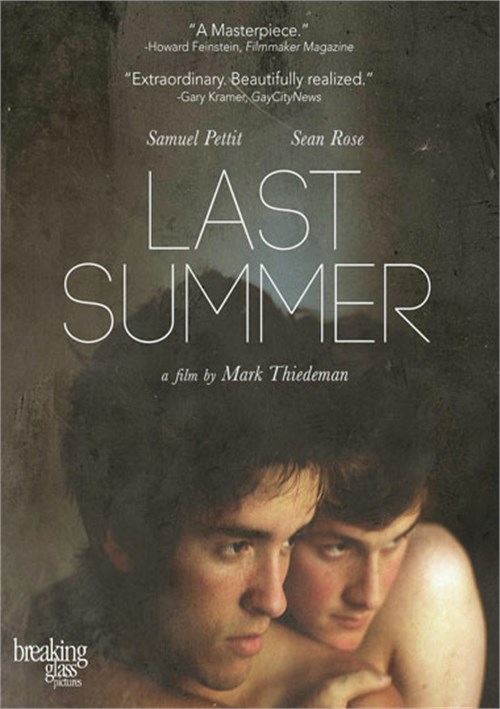 ---
---
Last Summer tells the story of two high school sweethearts, Luke and Jonah, who spend their final months together over the course of a long, quiet summer in the rural South, contemplating their uncertain future and the uncertain future of America. Jonah, sensitive, quiet and artistic, prepares to leave his small town for college, leaving Luke behind, but all he wants is for Luke to ask him to stay. But Luke, an athlete struggling through summer school, knows that his boyfriend needs to experience the world beyond their home.
---
Information
Director: Mark Thiedeman
Writer: Mark Thiedeman
Length: 1 hrs. 12 mins.
Rating: NR
Released: Dec 09 2014
TLA SKU: 1875671
Reviews
Review by Sammie
By: Sammie

This idyllic film is shot like an impressionistic silent film composed of a montage of beautifully framed, exquisitely lit individual shots with mostly voice-over dialogue. Overall, its a dream-like paced visual exercise of two teenage boys' melanch...
Read More
Review by gay_jj
By: gay_jj

Movie has no plot whatsoever, every shot feels like it's a few seconds too long and there are way too many 'dramatic' shots in there for absolutely no reason -- I feel like they're there just to add seconds to the movie.
Review by Phildog
By: Phildog

This film is stunning in its melancholy beauty. This first feature from Mark Thiedman proves that he has a natural mastery of this art form. Gorgeous cinematography! Not a single unnecessary word of dialog. "Last Summer" will haunt you with a swee...
Read More
Review by normalaz
By: normalaz

This is one of the worst I have seen in a long time. Very slow, I mean really slow. Could have squeezed it all into 20 minutes.
Review by Dexter
By: Dexter

I was hoping this was going to be a great little movie - it is not. It's awful and a waste of time. I wish now that I had gone outside and watched the grass grow for 73 minutes.
It was absolute torture to watch this movie. I kept wanting to fast...
Read More
Review by Jim
By: Jim

I got the Last Summer DVD a few days ago and fell in love with the movie. It's so beautiful. I've posted online reviews praising it in all the places I know to do it. I've recommended it to a gay psychotherapist in Tennessee who specializes in gay pa...
Read More
Review by That's me
By: That's me

This long, boring amateur movie defies description. I tried to fast forward through the long endless and mindless scenes of insects, leaves, skies, anything you could think of to extend this mess.
The lead (actors) are in about 5% of the ...
Read More
Review by Amos Lassen
By: Amos Lassen

As I sat and watched "Last Summer" I felt like I had seen it before and that was because of two reasons-the first is that it was filmed in a state that I called home for seven years-Arkansas and secondly because I was reminded of the lyric beauty of ...
Read More