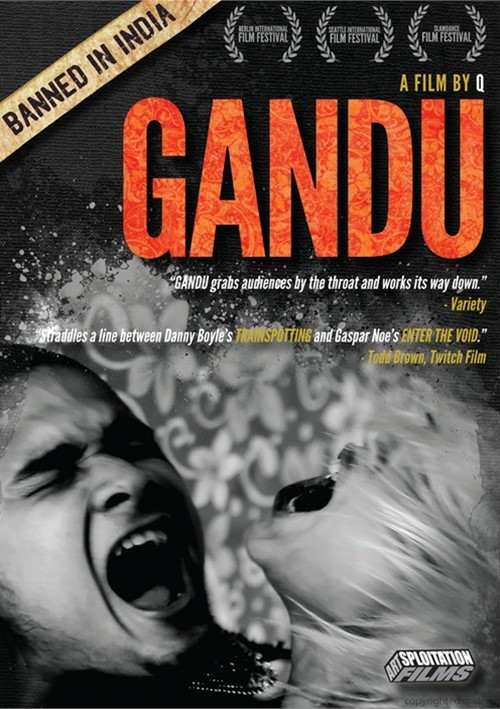 ---
---
As much of an anti-Bollywood film as one could imagine, revolutionary filmmaker Q's Gandu (Hindi slang for "Asshole") is a deliriously frantic, music-infused look at one poor young man and his dreams of becoming a rap star. Excitable Gandu lives in Kolkata. Poor, he survives by stealing spare change from the trousers of a man his prostitute mother services. Gandu's lives to be a rapper, and finds a comrade-in-song with another young man, the Bruce Lee-loving Rickshaw. Together they sing, drink, do drugs, wander the city and collectively dream of success. When Gandu wins big in the lottery, all his dreams seem to come true. Or do they? Told in fragmented scenes with pulsating music, the film is surreal, wild, weird, unpredictable, and sexually graphic. Gandu is a startlingly bold and wildly entertaining example of new Indian filmmaking, and which ironically is banned in India.
---
Reasons to Buy
An exciting new film from revolutionary filmmaker Q.
Information
Director: Q
Writer: Q
Length: 1 hrs. 25 mins.
Rating: NR
Released: May 27 2015
Added: Nov 15 2012
Production Year: 2011
TLA SKU: 1627728
UPC Code: 854555004002
Catalog #: DV34488202
Reviews
Review by Robert O'Neill
By: Robert O'Neill
In-House Review - Nov 27 2012
The gay content in Gandu extremely subtle; don't be disappointed. There is a healthy dose of homoeroticism between the lead actor and his best friend, but that is left unconsummated and underdeveloped. The film does, however, feature a scene where le...
Read More
Review by Amos Lassen
By: Amos Lassen

Many of us reach a point that we hate our lives but we manage to overcome that and deal with it all. Gandu is not so fortunate-he hates his mother and is not afraid to be vocal about how much he hates his life, lashing out whenever he can. Soon he an...
Read More