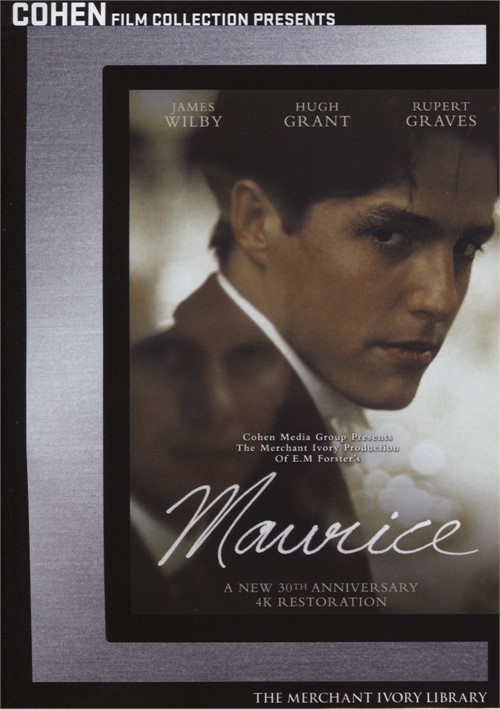 ---
---
Set against the stifling conformity of pre-World War I English society, E.M. Forster's Maurice is a story of coming to terms with one's sexuality and identity in the face of disapproval and misunderstanding. Maurice Hall (James Wilby) and Clive Durham (Hugh Grant) find themselves falling in love at Cambridge. In a time when homosexuality is punishable by imprisonment, the two must keep their feelings for one another a complete secret. After a friend is arrested and disgraced for "the unspeakable vice of the Greeks," Clive abandons his forbidden love and marries a young woman. Maurice, however, struggles with his identity and self-confidence, seeking the help of a hypnotist to rid himself of his undeniable urges. But while staying with Clive and his shallow wife, Anne, Maurice is seduced by the affectionate and yearning servant Alec Scudder (Rupert Graves), an event that brings about profound changes in Maurice's life and outlook. Cohen Film Collection is proud to present a gorgeous new
---
Reasons to Buy
James Wilby, High Grant and Rupert Graves star in one of the beloved gay romances of all time!
Now considered a classic gay novel, E.M Forster's self-supressed 1914 love story was not published until after his death in 1970. With the same reverence, respect and regal authority that they brought to his "A room with a view" and "Howard's End"
An inspiring tale of gay love that transcends class and social barriers, "Maurice" belongs in every gay cinema lover's collection and the re-release of this new, unedited, 4k restoration has been long awaited!
Information
Director: James Ivory
Length: 2 hrs. 20 mins.
Rating: R
Released: Sep 05 2017
Added: Jul 26 2017
Production Year: 1987
TLA SKU: 1926215
Number of Discs: 1
UPC Code: 741952838098
Custodian of Records:
E1 Entertainment
2 Tri-Harbor Court Port Washington, NY 11050
There Are No Reviews For Maurice