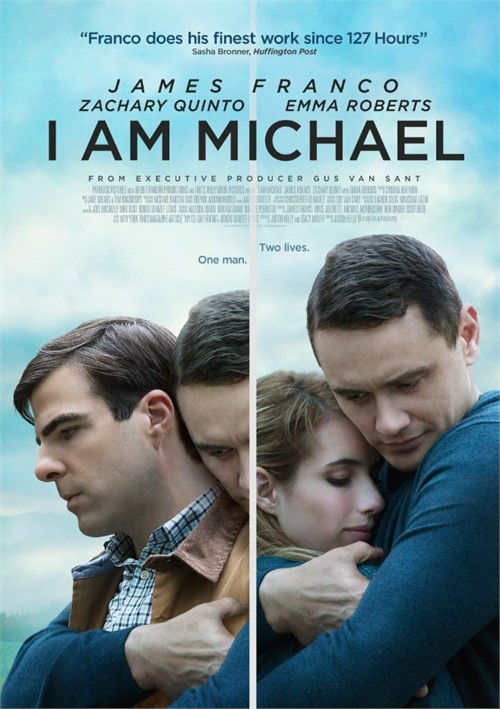 ---
---
I Am Michael is the incredible true-life story of Michael Glatze (James Franco), a high profile gay youth activist who created a national controversy when he claimed to no longer be gay and became a straight Christian pastor. The film follows Michael from his life in San Francisco with his boyfriend Bennett (Zachary Quinto), where he pursues political activism, a journalist career at XY Magazine, social awareness and sexual exploration, to his days of personal self-discovery. After a traumatic scare, Michael is plagued by doubt and paranoia, and begins a religious reawakening. Michael renounces his gay lifestyle, rejects his friends, and endeavors to find his "true self." He explores Buddhism and Mormonism, yet ultimately lands at a Christian Bible school in rural Wyoming where he meets his girlfriend, Rebekah (Emma Roberts), and becomes the pastor of his own church. This powerful new film captures one man's haunting journey through modern concepts of love, denial and redemption.
---
Reasons to Buy
James Franco has been working hard to bring unusual gay stories to the screen (see King Cobra, Interior. Leather Bar. and more). This is easily one of the most controversial yet.
I Am Michael has been earning great reviews from critics. The Examiner said "Franco's latest... is easily the most thought-provoking work he has done in this area." IndieWire said "Justin Kelly's first feature offers an evenhanded portrait of its controversial subject, but it doesn't make his decisions easy to take."
This powerful film captures one man's fascinating, complex, and haunting journey through modern concepts of love, denial and redemption. No matter how you feel about the real-life story that the film is based on, the film explores the power of belief and the desire to belong.
Information
Director: Justin Kelly
Producer:

James Franco

Producer:

Joel Michaely

Producer:

Scott Reed

Producer:

Vince Jolivette

Writer: Justin Kelly
Length: 1 hrs. 38 mins.
Rating: NR
Released: Mar 07 2017
Added: Jan 10 2017
Production Year: 2015
TLA SKU: 1887703
Number of Discs: 1
UPC Code: 602573165027
Catalog #: DV37489502
Custodian of Records:
Passion River
416 Main Street 2nd Floor Metuchen, NY 08840
Reviews
Review by Sir
By: Sir

no faster way to say this:
The musical score on this trailer is blaring, and the audio on this is not even discernable.
was this the intention?
also James Franco is not hard on working the gay world, he only wrote a book which did not ...
Read More
Review by Amos Lassen
By: Amos Lassen

"I Am Michael"
An Inverted Coming-Out Story
Amos Lassen
There are times that we have high hopes for a film that we have heard about and is in progress. With "I am Michael", I had heard that it was in progress and would be released at t...
Read More