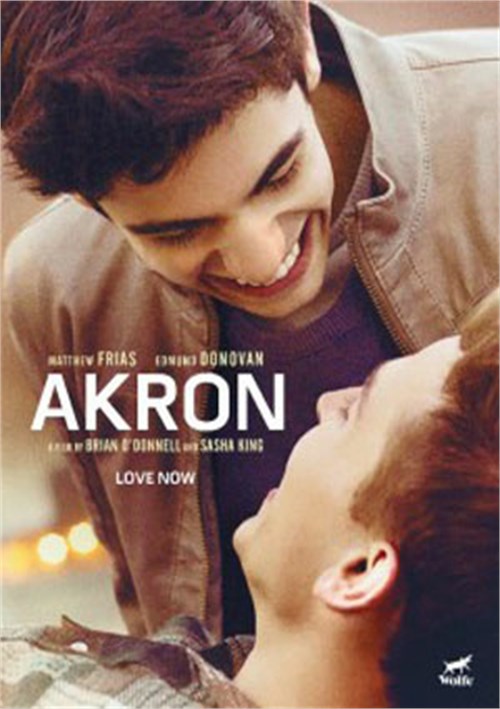 ---
---
Benny and Christopher, college freshmen, meet playing football and begin a relationship. They fall in love, supported by their family and friends. As their love for each other grows, a past tragic event involving their mothers comes to light. This revelation tests their own love and Benny's close-knit family. Throughout this reflective love story, with the beauty of rural Ohio as its backdrop, Benny travels an emotional journey that examines both his own feelings and his family's ability to come to terms with the past.
---
Reasons to Buy
Akron is a sensitive and unique independent film that puts a progressive, Midwestern spin on a classic family drama.
The film has earned rave reviews from critics. Edge Media called it "A wonderfully refreshing coming-of-age story that captures all the passion and excitement of two very fresh-faced, wholesome kids in the glow of first love." The Gay Star News said that "It's refreshing to see a gay movie about younger gay men where their sexuality is never the issue... accomplished and intelligent film-making."
It has also won numerous major awards at film festivals, including Best Narrative LGBT Feature at the Akron CIF + VF, the Audience Awards at Image Out, Rochester Film Festival and the Phoenix LGBT Desperado Film Festival, and the Best Feature Film award at OutReels Cincinnati.
Information
Director: Sasha King
Director: Brian O'Donnell
Writer: Sasha King
Writer: Brian O'Donnell
Length: 1 hrs. 28 mins.
Rating: NR
Released: Feb 07 2017
Added: Nov 28 2016
Production Year: 2015
TLA SKU: 1881427
UPC Code: 754703764522
Catalog #: DV37450602
Reviews
Review by Marty
By: Marty

Interesting story. Well-acted. Beautifully filmed. 'Nuf said.
Review by Amos Lassen
By: Amos Lassen

"Akron"
Benny and Christopher
Amos Lassen
Benny Cruz (Matthew Frias) is a college freshman at the University of Akron, Ohio meets and there he falls for fellow freshman Christopher (Edmund Donovan) at a football game. With the support ...
Read More