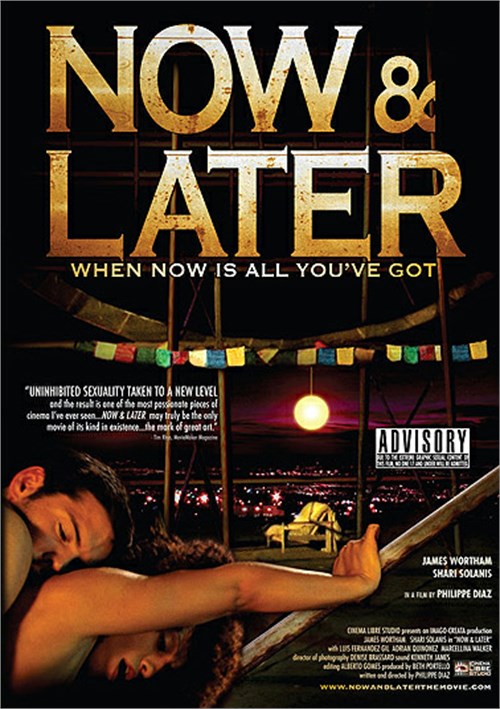 ---
---
Though it concerns a male/female couple, newcomer Janes Wortham shows off his hot straight boy body throughout this raunchy, sex-and-nudity-packed experiment.
Latina illegal immigrant Angela (Shari Solanis) hooks up with on-the-run financial criminal Bill (Wortham) and takes him home to her pad where they embark on a graphic journey of insanely arousing erotic exploration in Now & Later, a film conceived by director Philippe Diaz to erase sexual repression in society.
Whether or not he succeeds in smutting up this prudish country, we're not sure, but we are sure that if you watch this movie, you'll be so goddamned turned on that you might end up publicly masturbating or something. Solanis and Wortham show off every glorious full-frontal inch of their bodies during scenes of graphic blowjobs, doggystyle sexing, threesomes and more. Just to make sure your mind is as entertained as your wang, Diaz throws in lots of scenes of intellectual-type dialogue in between the many, many outrageously sexy sex scenes.
Food for the mind and wank-fodder for the cock, this movie just might fog up your TV screen. It'll also be a pretty sure bet to turn on all the straight-boy lovers you might be able to lure back to your apartment to watch this great art film you just bought.
---
Guaranteed to ship the next TLA Video Business Day.
*Restrictions Apply
Same Day Shipping
Place an online Credit Card Order for In Stock products before 3pm ET during normal business hours your Order will ship that day.
Learn more >
Reasons to Buy
Explicit sex!
Shari Solanis is so fucking sexy... especially when she's completely naked and beating off for your viewing pleasure.
Intellectual dialogue will feed your mind at the same time that hot sex scenes will stimulate your cock.
Information
Director: Philippe Diaz
Writer: Philippe Diaz
Length: 1 hrs. 39 mins.
Rating: NR
Released: May 10 2011
Added: Nov 05 2015
Production Year: 2009
TLA SKU: 1765212
UPC Code: 881394110229
Catalog #: DV3202422
Custodian of Records:
Cinema Libre
8328 De Soto Avenue Canoga Park, CA 91304
Reviews
Review by MadcityGuy
By: MadcityGuy

Bravo to Philippe Diaz for making a truly provocative movie that melds a thought provoking dialogue on American life, values (and hangups) with beautifully portrayed sexual expression. The lead characters James Wortham and Shari Solanis engage in ho...
Read More
Review by Amos Lassen
By: Amos Lassen

"Now and Later"
American Culture, Sex and Politics
Amos Lassen
Shari Solaris is Angela, a Latina illegal immigrant in Los Angeles. She meets Bill (James Wortham) who is a banker who has been disgraced and is on the run. She invites him...
Read More