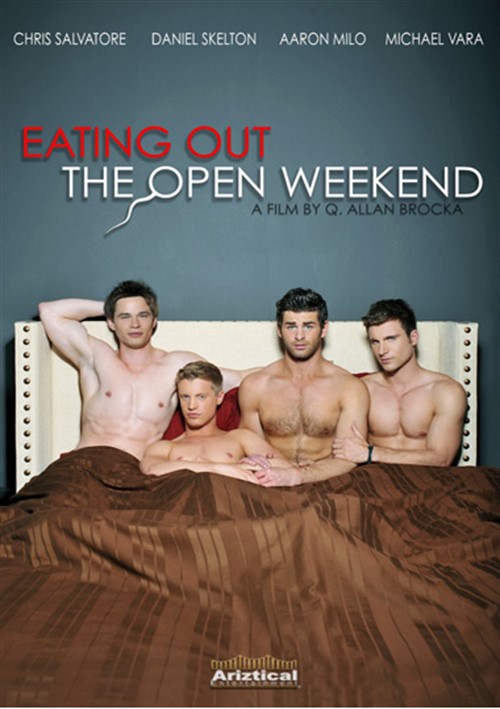 ---
---
Few things get us more excited than a new Eating Out movie! We're thrilled to announce that the fifth installment - Eating Out: The Open Weekend - is now available to pre-order! We'll have a review up very soon.
Zack and Benji (returning stars Chris Salvatore and Aaron Milo) open up their relationship for a weekend of fun at a gay resort in Palm Springs. After Zack runs into his ex-boyfriend Casey (Daniel Skelton), Casey lies and tells him he met someone new to avoid Zack's pity. When Casey reacquaints with an old high school friend, Peter (Michael Vara), he manages to convince him to pretend to be his boyfriend despite Peter's reluctance that it will interfere with his promiscuous weekend opportunities.
As sexual tensions start to mount between Benji and Peter, Zack becomes increasingly dissatisfied with his relationship while Casey longs for a stable relationship of his own. A sexy and outrageous comedy, Eating Out: The Open Weekend serves up plenty of eye-candy and raunchy fun along with the pursuit of finding true love.
---
Guaranteed to ship the next TLA Video Business Day.
*Restrictions Apply
Same Day Shipping
Place an online Credit Card Order for In Stock products before 3pm ET during normal business hours your Order will ship that day.
Learn more >
Reasons to Buy
This is the first Eating Out flick to be available on both DVD and Blu-ray!
These movies always have gay film festival audiences roaring with laughter. Make sure to watch The Open Weekend with a big group of fabulous friends!
Our favorite sexy leading men and hysterically funny supporting ladies are back for more fun: Chris Salvatore, Daniel Skelton, Aaron Milo, Rebekah Kochan, Mink Stole and more!
Information
Length: 1 hrs. 20 mins.
Rating: NR
Released: Mar 20 2012
Added: Nov 03 2015
Production Year: 2011
TLA SKU: 1761544
Number of Discs: 1
UPC Code: 631008072593
Catalog #: DV3321222
Custodian of Records:
Ariztical Entertainment
405 E. Wetmire RD 117-516 Tucson AZ 85705
Reviews
Review by Robert O'Neill
By: Robert O'Neill
In-House Review - Jan 05 2012
The most beloved, long-lasting gay comedy film series returns with a never-ending parade of beautiful men, well-earned romantic moments and side-splitting laughs.
Zack (Chris Salvatore) and Casey (Daniel Skelton), the slightly mismatched...
Read More
Review by Chip
By: Chip

I don't think these movies can disappoint. My only complaint is that Chris Salvatore is wearing WAY too much make-up.
Review by firefighter
By: firefighter

Of all the Eating Out movies, I like this one the most. It is a great comedy and well worth the money.
Allan Brocka really stands out as great writer/director.
His TV series "Rick and Steve the Happiest Gay Couple in All the World" was t...
Read More
Review by DaninDelco
By: DaninDelco

The eating out series has gone well past their prime, they stopped being entertaining after the first 5 minutes of the first one. Like with Another Gay Movie, they should have left well enough alone with the first movie.