---
---
CALL ME BY YOUR NAME, the new film by Luca Guadagnino, is a sensual and transcendent tale of first love, based on the acclaimed novel by Andr Aciman. It's the summer of 1983 in the north of Italy, and Elio Perlman (Timothe Chalamet), a precocious 17- year-old American-Italian boy, spends his days in his family's 17th century villa transcribing and playing classical music, reading, and flirting with his friend Marzia (Esther Garrel). Elio enjoys a close relationship with his father (Michael Stuhlbarg), an eminent professor specializing in Greco-Roman culture, and his mother Annella (Amira Casar), a translator, who favor him with the fruits of high culture in a setting that overflows wit h natural delights. While Elio's sophistication and intellectual gifts suggest he is already a fully-fledged adult, there is much that yet remains innocent and unformed about him, particularly about matters of the heart. One day, Oliver (Armie Hammer), a charming American scholar working on his doctorate, arrives as the annual summer intern tasked with helping Elio's father. Amid the sun-drenched splendor of the setting, Elio and Oliver discover the heady beauty of awakening desire over the course of a summer that will alter their lives forever.
---
Additional Versions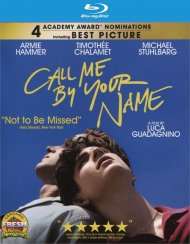 Reasons to Buy
Nominated for a Best Picture Academy Award,
Timothee Chalamet and Armie Hammer create an unforgettable summer romance that is bold, explicit and emotionally resonant.
Not only did we name the movie #1 on our "Best Gay Movies of 2017" list, but Call Me By Your Name earned a spot on most reputable critics top ten lists for the year.
DVD Features
Snapshots of Italy: The Making of Call Me By Your Name.
In Conversation with Armie Hammer, Timothee Chalamet, Michael Stuhlbard & Luca Guadagnino
Commentary with Timothee Chalamet & Michael Stuhlbarg
"Mystery of Love" Music Video by Sufjan Stevens
Digital Copy Included
Information
Director: Luca Guadagnino
Writer: James Ivory
Writer: Andre Aciman
Length: 2 hrs. 12 mins.
Rating: R
Released: Mar 13 2018
Production Year: 2017
TLA SKU: 1959268
Number of Discs: 1
UPC Code: 043396523821
Reviews
Review by gbelly
By: gbelly

One of the best gay-themed movies of all time!
Review by Matt BC
By: Matt BC

The acting and chemistry was okay. But the script was sub-par, often horrible at times. I LOVE almost all Merchant & Ivory films. This one does not come close. Disappointed. This film was highly over-rated.
Review by Amos Lassen
By: Amos Lassen

"CALL ME BY YOUR NAME"
A Jewish Film?
Amos Lassen
I am the kind of guy who is usually judged by two aspects of my life- my Jewishness and my sexuality and the two have gone hand in hand for as long as I can remember. ...
Read More