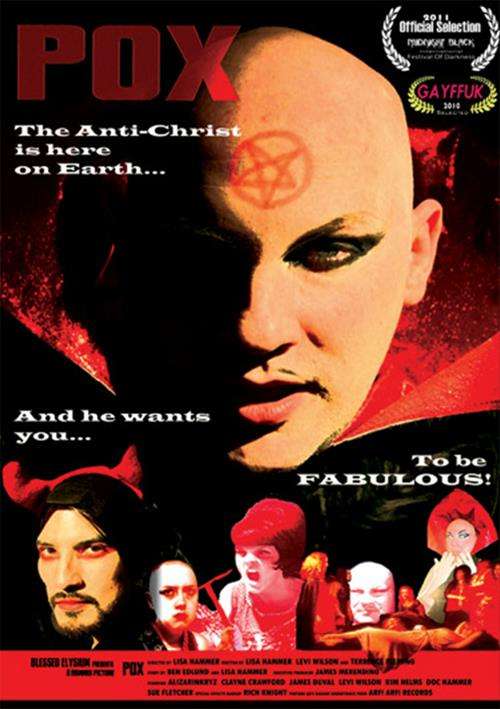 ---
---
The Anti-Christ is here on Earth - and he needs to find a spa! From underground gothic filmmaker Lisa Stockton-Wilson (formerly Lisa Hammer - Pus$bucket, "The Venture Bros") comes a touching Anti-Christ coming-of-age tale.
Pox was meant to be the Anti-Christ, but his star is waning and his talk show's ratings are way down. After his producer and mentor (Clayne Crawford) is to replace him, Pox embarks on a journey to a day spa - his only comfort. Can his invisible alien manager and an inept doomsday cult help him take his rightful place as ruler of the universe?
This title ships on a DVD-R format disc. Please note, some DVD players may not be able to play this format. Please make sure your DVD player is compatible with this format before purchasing this title.
---
Reasons to Buy
Pox is a delightfully sacrilegious comedy that would make John Waters proud.
Pox has also been developed into a regular series. You can find many, many episodes on the web.
Director Lisa Stockton-Wilson, best known as Lisa Hammer , is an underground NYC filmmaker, actress, composer and singer known for surrealist, German Expressionist films and experimental horror-fairy tales.
Information
Director: Lisa Stockton-Wilson
Writer: Ben Edlund
Writer: Lisa Stockton-Wilson
Writer: Terrence Fleming
Writer: Levi Wilson
Rating: NR
Released: Nov 20 2012
Production Year: 2012
TLA SKU: 1761642
UPC Code: 807839006568
Catalog #: DR34382602
Reviews
Review by Robert O'Neill
By: Robert O'Neill
In-House Review - Sep 06 2012
Pox posits the question "What would the Anti-Christ be if he really existed and lived in the present?" The answer: he would be a famous talk show host! Alizarinkryz (that's one hell of a stage name) plays the eponymous evil character as a nelly queen...
Read More
Review by Amos Lassen
By: Amos Lassen

Pox is the Anti-Christ and he has his own television show. During a broadcast one evening as he interviewed a celebrity guest, he is accosted by a superhuman fag hag, Borbola. His reaction was so strong that he lost his TV show and along with it his ...
Read More