---
---
Told through flashbacks, Prick Up Your Ears offers up the story of the relationship between celebrated playwright Joe Orton (Gary Oldman) and his mentor and subsequent lover Kenneth Halliwell (Alfred Molina). At first blush, the older Halliwell is the educator and Orton his willing student. Those roles were eventually reversed once Orton became far more successful as a writer and was thrust into the spotlight. His sudden fame and career trajectory placed Halliwell in his shadow - and resulted in tragic, bloody consequences. Based on a celebrated biography by John Lahr (played by Wallace Shawn in the film), director Stephen Frears weaves a compelling, caustic, often humorous and never less than entertaining tale of fleeting fame, tumultuous gay romance and overwhelming jealousy.
---
Additional Versions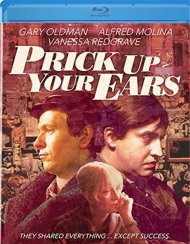 Reasons to Buy
Gary Oldman and Alfred Molina star as gay playwright Joe Orton and his lover Kenneth Halliwell, two men whose lives ended in bloody tragedy, in this mesmerizing gay classic now on DVD and Blu-ray.
Oldman took home the London Critics Circle Award (Actor of the Year) for his performance in Prick Up Your Ears, alongside scribe Alan Bennett who was awarded the Screenwriter of the Year for adapting the much-heralded biography on which the movie is based.
The film features a stellar case - Vanessa Redgrave, Wallace Shawn, Lindsay Duncan and Julie Walters - and offers a great example of director Stephen Frears's LGBT-focused work of the mid-1980s. This movie makes a great double feature with My Beautiful Laundrette.
DVD Features
Features Not Specified.
Information
Director: Stephen Frears
Writer: Alan Bennett
Length: 1 hrs. 50 mins.
Rating: R
Released: Sep 22 2015
Production Year: 1987
TLA SKU: 1751501
Number of Discs: 1
UPC Code: 887090109703
Catalog #: DV12150305
Reviews
Review by Raymond Murray
By: Raymond Murray
In-House Review - Jul 28 2015
This chilling and graphic portrayal of the life and death of British playwright Joe Orton is a masterful tribute to a man who fearlessly attacked English morals and customs.
Gary Oldman is eerily transformed into Orton, a hugely talented...
Read More
Review by Amos Lassen
By: Amos Lassen

"PRICK UP YOUR EARS"
What a Way to Go
Amos Lassen
"Prick Up Your Ears" is a gem of a movie. It tells the true story of English playwright Joe Orton and his homosexual relationship with his talented but not so successful partner, Kenne...
Read More