---
---
Renato and Albin (Ugo Tognazzi and Michel Serrault) - a middle-aged gay couple who are the manager and star performer at a glitzy drag club in St. Tropez - agree to hide their sexual identities, along with their flamboyant personalities and home decor, when the ultraconservative parents of Renato's son's fiancée come for a visit. This elegant comic scenario kicks off a wild and warmhearted farce about the importance of nonconformity and the beauty of being true to oneself. A modest French comedy that became a breakout art-house smash in America, Edouard Molinaro's La Cage aux Folles inspired a major Broadway musical and the blockbuster remake The Birdcage. But with its hilarious performances and ahead-of-its-time social message, there's nothing like the audacious and dazzling original movie.
---
Additional Versions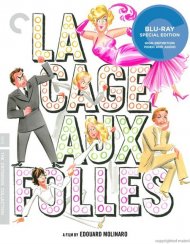 Reasons to Buy
This seminal gay hit is a must see!
If you've seen The Birdcage, chances are good that you love it. Now you can go to the source.
La Cage aux Folles is coming courtesy of the Criterion Collection - which means it has been remastered, gorgeously packaged and celebrated with lots of special features.
DVD Features
New Interview With Director Edouard Molinaro
Archival Footage Featuring Actor Michel Serrault And Jean Poiret, Writer and Star of The Original Stage Production Of La Cage Aux Folles
New Interview With Laurence Senelick, Author Of The Changing Room: Sex, Drag and Theatre
French And U.S. Trailers
Information
Director: Marcello Danon
Writer: Francis Veber
Writer: Jean Poiret
Writer: Edouard Molinaro
Writer: Marcello Danon
Length: 1 hrs. 36 mins.
Rating: R
Released: Sep 10 2013
Production Year: 1978
TLA SKU: 1659655
Number of Discs: 1
UPC Code: 715515109918
Catalog #: DV10310804
Reviews
2 Reviews for La Cage Aux Folles: The Criterion Collection
Write a Review
Review by Raymond Murray
By: Raymond Murray
In-House Review - Jun 18 2013
This frolicsome farce that finally made drag respectable stars Ugo Tognazzi and Michel Serrault as gay lovers who must, amid mounting complications, pose as mom and dad for the sake of Tognazzi 's son's fiancée and her straight-laced parents.
<...
Read More
Review by Amos Lassen
By: Amos Lassen

"La Cage aux Folles"
Wonderful
Amos Lassen
Looking back at my DVD collection, I realized I had never written a review of a gay classic, "La Cage aux Folles". I do not care if you are gay or straight or where you are from, this is one ...
Read More