---
---
At the age of eight, Kansas youngsters Neil and Brian (Joseph Gordon-Levitt and Brady Corbet) played on the same little league baseball team. Now, ten years later, the two boys couldn't be more different. Neil is a charismatic but emotionally aloof male hustler while Brian is a nervous introvert obsessed with the idea that he has been by a UFO. When the boys' parallel lives inevitably intersect, the pair unearth dark, repressed secrets on a harrowing and unforgettable journey of self-discovery.
---
Additional Versions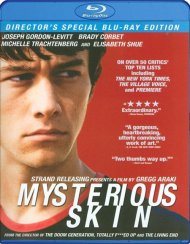 Reasons to Buy
Gut-wrenching, gorgeous, intense and unflinching, Mysterious Skin offers a powerful emotional journey you won't soon forget.
Joseph Gordon-Levitt transitioned from child star ('3rd Rock from the Sun,' anyone?) to respected adult actor once this film was released. He's incredibly raw and vulnerable in this movie - and also smokin' hot (which doesn't hurt).
The new "Director's Special Blu-ray Edition," coming out in time for the film's 10th anniversary, includes an audio commentary, photo gallery, deleted scenes, a special reading of the original novel, audition footage of the two leads, the original theatrical trailer and more!
DVD Features
Motion Menu
Commentary Track With Gregg Araki, Joseph Gordon-Levitt + Brady Corbet
International Trailer
Mysterious Skin Book Reading
Actors' Audition Tape
Deleted Scenes
Information
Director: Gregg Araki
Producer:

Gregg Araki

Producer:

Mary Jane Skalski

Producer:

Jeffrey Levy-Hinte

Writer: Gregg Araki
Length: 1 hrs. 39 mins.
Rating: NR
Released: Apr 25 2006
Production Year: 2005
TLA SKU: 1085734
Number of Discs: 1
UPC Code: 712267260027
Catalog #: DV2113392
Reviews
8 Reviews for Mysterious Skin: Deluxe Unrated Director's Edition
Write a Review