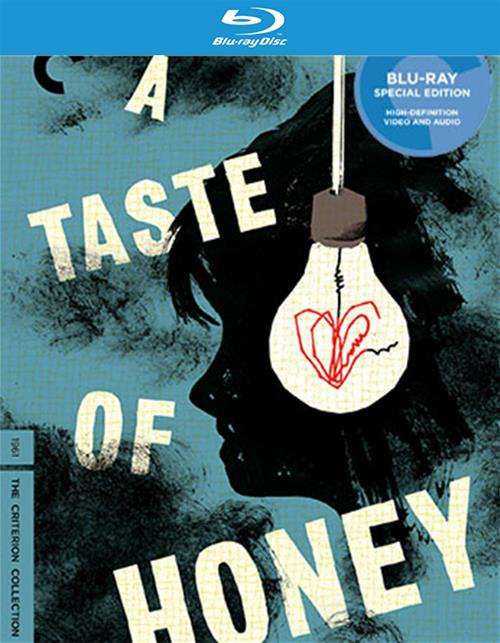 Taste Of Honey, A: The Criterion Collection
By
Criterion
---
---
The revolutionary British New Wave films of the early 1960s were celebrated for their uncompromising depictions of working-class lives and relations between the sexes. Directed by Tony Richardson, a leading light of that movement, and based on one of the most controversial plays of its time, A Taste of Honey features Rita Tushingham in her star-making debut role as a disaffected teenager finding her way amid the economic desperation of industrial Manchester, and despite her absent, self-absorbed mother. With its unapologetic identification with social outcasts and its sensitive, modern approach to matters of sexuality and race, Richardson's classic is a still startling benchmark work of realism.
---
Reasons to Buy
This lovely, heartbreaking 1961 film is a minor masterpiece - an earthy, poetic tale about a group of "social rejects" in England's bleak industrial North.
Murray Melvin plays Geoff, an effeminate homosexual and fellow outcast who befriends the main character and offers to marry her when she finds herself pregnant.
Transcending lower-class clichés, the story touchingly examines the lives and friendship of a straight woman and a gay man; Jo and Geoff's relationship is one of great tenderness, affection and support - a radical vision during the time the film was released.
DVD Features
- New Restored 4k Digital Transfer
- New Interviews With Actors Rita Tushingham and Murray Melvin
- Audio Interview With Director and Cosscreenwriter Tony Richardson From the 1962 Cannes Film festival
- Except From a 1960 With Cinematographer Walter Lassally
- Remaking British Theater: Joan Littlewood and "A Taste of Honey" a New piece about Film's Stage Origins, featuring an Interview with Theater Scholar Kate Dorney
- Momma Dont Allow (1956), A Free Cinema short Film By Richardson, Shot by Lassally
- PLUS: An Essay By Film Scholar Colin MacCabe


Information
Director: Tony Richardson
Writer: Tony Richardson
Writer: Shelagh Delaney
Length: 1 hrs. 40 mins.
Rating: NR
Released: Aug 23 2016
Added: Jul 26 2016
Production Year: 1961
TLA SKU: 1861757
Number of Discs: 0
UPC Code: 715515184717
Catalog #: DB11873003
Reviews
1 Review for Taste Of Honey, A: The Criterion Collection
Write a Review
Review by
By:
In-House Review - Apr 16 2009
This lovely, heartbreaking film is a "minor" masterpiece. Tushingham stars in this earthy tale about a group of social rejects in Britain's bleak, industrial North. A poetic saga, which is aided by top-notch performances, and transcends lower-class c...
Read More